Place your order online and schedule your pick up time.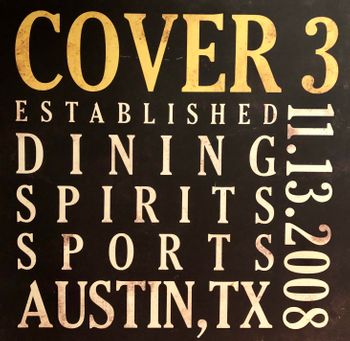 COVER 3 | Dining, Spirits, Sports
Owners Matt Dodson and Doug Young, native Austinites, have joined their shared passion for outstanding food, exceptional service and a pure love of sports into one amazing establishment. COVER 3 is truly an Austin original- an elegant, stylish, yet unpretentious culinary concept that captures the excitement and entertainment of having a private box at your favorite sporting event.
Whether you're looking for a place to watch your favorite team, eat an exceptional meal or mix with the diverse Austin crowd, COVER 3 has what you're looking for.
With air- high-fives, handshakes and hugs, thank you for all the love and support you have shown us. With the continued help of our community we will weather this storm!
Please know that while we continue to adapt and adhere to all guidelines set forth by the CDC and local health officials, the safety of our patrons and staff is of paramount importance. Our team is committed to doing whatever it takes to protect the wellbeing of our community. Welcome to COVER 3 and thank you for supporting us. Cheers to your health!