From the planning phase to execution, we'll help you host a fabulous event.
CONTACT
Jessica Manthe
512.693.2393
jessica.manthe@cover-3.com
Jessica is dedicated to providing the best experience for our guests by ensuring the quality of food and service, as well as the atmosphere, is always stellar. Jessica will ensure that your event at Cover 3 Round Rock is enjoyable, well-executed and exceeds your expectations.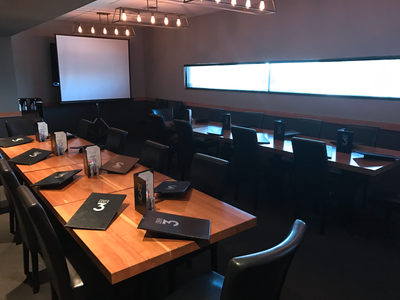 NORTH PARTY ROOM & WEST PARTY ROOM
COVER 3 Round Rock boasts two casually-elegant event spaces, each of which feature comfortable leather chairs, contemporary chandeliers, and flat-screen TVs.
The North Party Room accommodates 30 guests. The West Party Room accommodates 20 guests.
MENU OPTIONS
We offer a variety of menu options, appealing to a wide range of culinary preferences. Each of our menu items is prepared from scratch and cooked to order, allowing us to provide a high-degree of guest service while also ensuring menu items can be customized to suit individual dietary restrictions. A pre-order is never required; simply select the menu that you'd like to offer your guests and we'll take care of the rest! Click on the link below to view our sample Dinner Menus available for Private Parties.
COVER 3 serves a full bar with a premium well, twelve draft beers from our chilled taps and an extensive selection of wines available by the glass or bottle. Depending on your preference/budget we offer hosted beverage, drink tickets and cash bar options. All beverages are billed on consumption.
Whether you're hosting a formal dinner party, networking lunch, celebratory brunch or cocktail reception, we'll help you host a fabulous event. Hospitality is the name of the game and COVER 3's got you covered!
BOOKING INFO
To reserve the space for your event we require a signed Reservation Agreement along with your credit card information. A deposit is not required.
There is not a flat fee for the space however we require a food and beverage minimum. All food and beverage purchased from your event space will go toward meeting the minimum. Food and beverage minimums vary by specific date and timeframe. For details and availability please contact your Banquet Coordinator, Jessica.
RESTAURANT BUYOUT
COVER 3 is an awesome venue for corporate events and fundraisers. Accommodating up to 200 people, we host an amazing private party that is certain to provide a memorable experience for all!