From the planning phase to execution, our Banquet Coordinator will help you host a fabulous event.
CONTACT
Misti Pederson
512.982.1550
DowntownATX.Events@cover-3.com
Misti is passionate about fulfilling her clients' every wish when hosting an event at Cover 3 Downtown. Through the professionalism and camaraderie of the staff along with the creativity of the scratch kitchen, Misti regards Cover 3 as being the top-spot to host an event.
DOWNTOWN PARTY ROOM
Our Downtown Party Room features floor-to-ceiling windows, butcher-block table tops and comfortable leather chairs. This elegant space will accommodate up to 32 guests for your cocktail reception, buffet lunch or family-style dinner party. The Party Room includes two 80" flat screens to keep you and your guests tuned into your presentation or the big game!
For larger parties (up to 60 guests), our Downtown Party Room paired with East Cocktail provides the perfect VIP space for guests to move about and mingle while sipping on cocktails and enjoying your favorite Cover 3 appetizers.
Party Room Set Up Options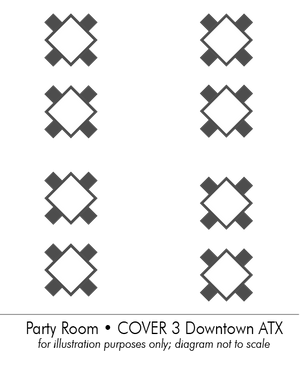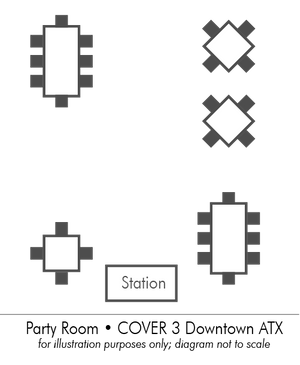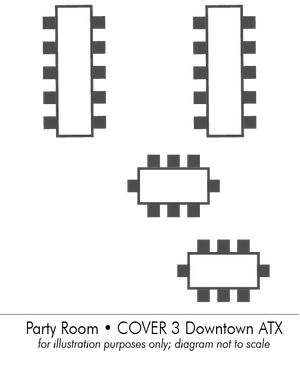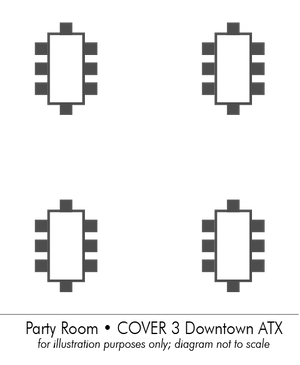 PATIO
Our Patio is sure to be your favorite downtown venue for outdoor dining, celebratory weekend brunch or evening cocktail party. The space has heaters for cooler weather and portable coolers for Austin's summer months, making it well equipped to keep you comfortable for parties throughout the year. The entire patio will accommodate up to 68 guests. Cover 3 Downtown offers complimentary garage parking and is a convenient location to gather friends, clients and family.
MENU OPTIONS
We offer a variety of menu options, appealing to a wide range of culinary preferences. Each of our menu items is prepared from scratch and cooked to order, allowing us to provide a high-degree of guest service while also ensuring menu items can be customized to suit individual dietary restrictions. A pre-order is never required; simply select the menu that you'd like to offer your guests and we'll take care of the rest! Click on the link below to view our sample Dinner Menus available for Private Parties.
Cover 3 serves a full bar with a premium well, twelve draft beers from our Iced Cobra taps and an extensive selection of wines available by the glass or bottle. Depending on your preference/budget we offer hosted beverage, drink tickets and cash bar options. All beverages are billed on consumption.
Whether you're hosting a formal dinner party, networking lunch, celebratory brunch or cocktail reception, we'll help you host a fabulous event. Hospitality is the name of the game and COVER 3's got you covered!
BOOKING INFO
To reserve the space for your event we require a signed Reservation Agreement along with your credit card information. A deposit is not required.
There is not a flat fee for the space however we require a food and beverage minimum. All food and beverage purchased from your event space will go toward meeting the minimum. Food and beverage minimums vary by specific date and timeframe. For details and availability please contact your Banquet Coordinator, Misti.
RESTAURANT BUYOUT
COVER 3 is an awesome venue for corporate events and fundraisers. Accommodating up to 300 people, we host an amazing private party that is certain to provide a memorable experience for all!