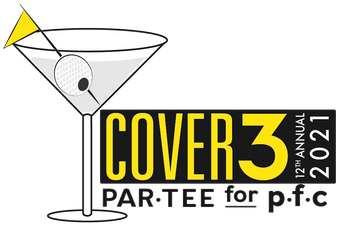 On Wednesday, October 27th, COVER 3 hosted its annual fundraising celebration, the Par-Tee For PFC. This evening is all about sharing good times with good friends, for a good cause - Partnerships For Children. Guests sipped on cocktails and enjoyed delicious appetizers while mingling with new friends, shopping the auctions and ring-tossing for the chance to win bottles of delicious wine or Nine Banded Whiskey.
Guest tickets, priced at $25 per person, included entry to the event, drink tickets and complimentary appetizers. This event was free for all players in our 2021 Invitational Golf Classic. All proceeds, including entry fees, benefited Partnerships for Children.
Shout out to each of our in-kind donors for their generosity and loyal commitment to our fundraising efforts. Much of the money raised raised from the Par-Tee for PFC and our Invitational Golf Classic is generated from the silent and live auctions. These auctions are built solely from the generous donations from our friends, neighbors, restaurants guests, vendors and community partners. Our fundraising is crucial to Partnerships for Children's ability to provide the necessary resources, mentoring and support services to so many children and families in our community.
TITO'S HANDMADE VODKA
AUSTIN ORCHID EXCHANGE
AMY BRANDES
DAVID MEISSNER
PANACHE INTERIORS {SHARON RADOVICH}
VOLENTE BEACH WATER PARK
AUSTIN POTTERY STUDIO {DON BRIMBERRY}
AUSTIN NATURAL JEWELRY
CHICK-FIL-A
FLOURISH BACK BONE
CABI {JO DALE GUZMAN}
LUX BOARDS
JAMES AVERY ARTISAN JEWELRY
SUSTO MEZCAL TEQUILA
GREAT HILLS COUNTRY CLUB
TARA BRADDOCK
TED CHEAVENS ART
KATHY DODSON DESIGN
KRIS MILLER DECORATING
BRADZ SALON
FABIAN FLORALS
HAPPY SALON
SPEC'S WINES, SPIRITS & FINER FOODS
J BLOOM {DAWN LEDGERWOOD}
RON FREDERICKS HAIR
BETH AND BRUSH
ROUND ROCK EXPRESS
MADE-IN
WHOLE FOODS
BLUE JEAN REVIVAL
SKIN ZEN
SAXON PUB GIFT BASKET
REAGAN MORENO
MAVERICK HORSEBACK RIDING
DONNA WEAVER
VIP MARINA
MASSAGE HEIGHTS {PARMER CROSSING}
FIDDLES + FERNS
HAIR BY HAVI
SUPER STAR NAILS
URBAN AIR {CEDAR PARK}
TWIN LIQUORS
CAPITAL CRUISES
FAIL JEWELRY
CABO BOB'S
BLANTON MUSEUM OF ART
CONSUELA
BLUE OWL BREWING
PUBCRAWLER OF AUSTIN
TEXAS TRAIL RIDES
WATERLOO ICE HOUSE
MOONSHINE PATIO BAR & GRILL
FAIRMONT HOTEL {AUSTIN}
ZUZU HANDMADE MEXICAN FOOD
TC4 {MIGHTY FINE, TONY C'S & THE LEAGUE}
VIA 313
NINE BANDED WHISKEY
Partnerships for Children is a 501(c)3 organization. Tax ID: 43-2004770