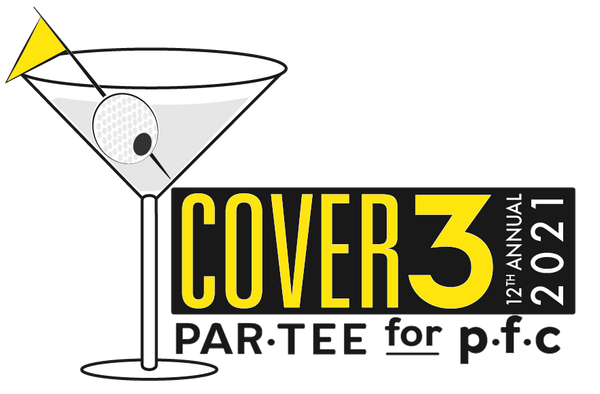 Join us for the Par-Tee for PFC! This annual celebration is all about sharing good times with good friends. Sip on a cocktail and enjoy delicious appetizers while you mingle with new friends, shop the auctions and ring-toss for the chance to win bottles of delicious wine.
SAVE THE DATE!
Our virtual silent auction will go live on Wednesday, October 20th and close with the Par-Tee for PFC on Wednesday, October 27th.
Guest tickets are priced at only $25. Entry includes drink tickets, complementary appetizers and an evening of fun with your Cover 3 family. All proceeds and entry fees benefit Partnerships for Children. This event is free to all players in our 2021 Invitational Golf Classic.
WANNA HELP?
Sponsor the Par-Tee through one of two exclusive sponsorship opportunities or support our fundraising efforts with an in-kind donation to our silent and live auctions.
We know the past year has presented significant challenges and strain for small businesses. With that being said, anything that you can give will be greatly appreciated. Nothing is too big. Nothing is too small. We're just grateful for your help!
In-Kind Donors
Much of the money raised raised from the Par-Tee for PFC and our Invitational Golf Classic is generated from the silent and live auctions. These auctions are built solely from the generous donations from our friends, neighbors, restaurants guests, vendors and community partners. Our fundraising is crucial to Partnerships for Children's ability to provide the necessary resources, mentoring and support services to so many children and families in our community.
Par-Tee for PFC Photo Booth Sponsor
Sponsor Logo prominently displayed at 2021 Par-Tee for PFC photo booth.
Sponsor Logo displayed on Cover-3.com and accessible from Cover-2.com
Sponsor Logo included in social media mention.
Two Guest Tickets to the Par-Tee for PFC.
Limited to One Sponsor | $750
Par-Tee for PFC Silent Auction Sponsor
Sponsor Logo displayed on all 2021 Par-Tee for PFC event signage and promotional materials.
Sponsor Logo prominently displayed on silent auction materials and mobile bidding app.
Sponsor Logo displayed (with link to sponsor website) on Cover-3.com and accessible from Cover-2.com.
Sponsor Logo included in multiple social media mentions.
Eight Guest Tickets to the Par-Tee for PFC.
Limited to One Sponsor | $5,000
Partnerships for Children is a 501(c)3 organization. Tax ID: 43-2004770