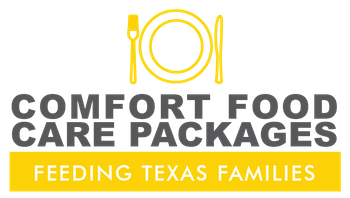 A COVID Relief Program from PFC.
You can help a family in dire need of a meal by sponsoring a Comfort Food Care Package! These are unprecedented circumstances and in these desparate times Partnerships For Children is working hard to help struggling families and homeless youth by matching COVER 3 (and other local restaurants) with those who desperately need a meal.
How the program works.
The Department of Family and Protect Services identifies families most affected by this pandemic and refers their name to Partnerships for Children. PFC then works with participating restaurants to assign meals to families in need and coordinates volunteers to pick up the meals and deliver (contact free) to the families.
Ready to sponsor a family?
Contact Denim Koshell at events@cover-3.com to donate a Comfort Food Care Package - simply provide your credit card and we'll take it from there.
Your meal will be paired up with a family in need.
Your sponsored meal will feed a family in need and help keep us cooking!
Partnerships for Children is doing everything possible to answer the needs of our children and families during this pandemic. Child Protective Services caseworkers are still out working to ensure all our kids are safe and being taken care of, and we continue to hear stories like the one below of families that are in need.
"I have a 3 year old child in an adoptive home and the adoptive mother has an in-home daycare. This child has been hospitalized 3 times in the last year for respiratory distress so because of his elevated risk, we have required that the mother close her day care for 2 weeks. I'm wondering if there is anything you can help with financially to offset the cost of her lost income?"
- Stephanie Hennes - Foster and Adopt Caseworker
PFC CARE PACKAGE CHICKEN DINNER • 50
Two Lemon-Herb Rubbed Spatchcocked Chickens with Classic Sicilian Sauce, Garlic Mashed Potatoes and Classic Caesar Salad